Credit Intelligence to transform commercial lending
Delivering instant credit analysis & real-time portfolio insights as dynamic as the market itself
The ON Credit Intelligence Suite™
"This is my sixth recession and this one is as different as any I've ever seen, and in the future, there'll likely be other recessions which are very different to anything else we've seen. So, we can't rely on the old ways of assessing risk. We need to have the tools to be more responsive to these different types of recessions, which is why OakNorth's software is going to be a very important product for a lot of banks."
Daryl D. Moore
Senior Executive Vice President and Chief Credit Executive, Old National Bancorp
The ONside Magazine: Credit Intelligence for Commercial Banking Leaders
Check out the latest edition of ONside Magazine, featuring hot topics in commercial banking including climate risk management, rethinking the annual review, OakNorth Bank's (UK) secret to success, and more.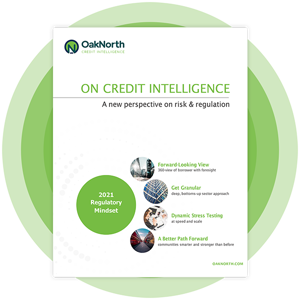 Regulatory Mindset on Credit Risk
Unprecedented events such as COVID-19 and climate change are changing banks' and regulators' expectations of effective commercial credit risk management. Understand the critical challenges that banks are now facing, and how to get on the front foot with regulators.
2021 LendTech of the Year
OakNorth was named LendTech of the Year at the US Fintech Awards for transforming commercial lending and giving banks better tools to analyze credit worthiness.
Successful lending to the 'Missing Middle'
Hear from OakNorth's co-founder, Rishi Khosla, on how lenders need to take a bottoms-up, granular, forward-looking view of their loan book, in order to effectively lend to the 'Missing Middle'.
TAKE THE NEXT STEP
Request a personalized demo to discover what ON Credit Intelligence can do for your bank.
What We'll Cover:
What makes our technology different
How rapidly you'll see results
Ease of installation and cost benefits
Current customers and outcomes